My wife & I have been looking for a way to peek into our 1.5 year old toddler's room at night without waking him up. Opening the door just wasn't doing it, as it always wakes him up. So, we started looking into baby monitors that had video capabilities. Anything decent in this category wound up in the $200 range or above. So the geek in me started looking into alternatives. We each have our own laptops & iPhones so I figured it'd be ideal to find something that lets us use both, or at least something more flexible than a proprietary system. So, I started looking into IP security cameras for the home. Most of these are pretty expensive too, but I did find one company called Foscam that made IP cameras in the $100 range, & they seemed to be well featured despite the cost. They also had good ratings on Amazon.com, so we bought a Foscam FI8918W to try it out; if it didn't work out, we'd just send it back. From the user contributed photos on the product page, it looks like I'm not the first one to have thought of this idea.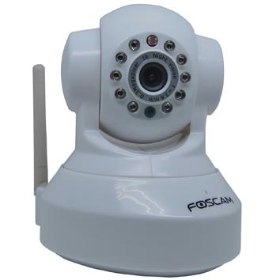 The camera arrived yesterday & I spent about 2 hours setting it up. More on why it took so long later. I was immediately impressed with the ease of setup, but of course I did it my own way rather than following the instructions. I knew it'd have a web based management interface, so I powered it on & plugged it into a wired ethernet connection, then checked my router's interface to see which new IP address showed up on the network. I think the camera comes with software that installs a "camera finder" type of IP scanner on your PC, and I know that would be useful to the non-technical crowd.
Foscam is a company based out of China, so like with most things "Made in China" (it seems), there was a certain feel of cheapness to it, both with the physical construction & the web based management interface. The plastic of the camera is the kind you'd expect to see on a cheap child's toy; it doesn't feel durable at all. I bet it wouldn't survive a 2ft fall onto a hard floor. Considering I have it on a 4 ft dresser, if my son takes interest & decides to pull it down to play with, I think we're out of a camera. Now, if you're thinking "Wait a minute, how's a 1.5 year old toddler going to reach up on a 4ft dresser?"; he's already learned he can stand on something sturdy to reach higher. :) I'm so proud! The web interface itself is definitely not the best I've seen, but it gets the job done. You can view the camera feed directly from your browser: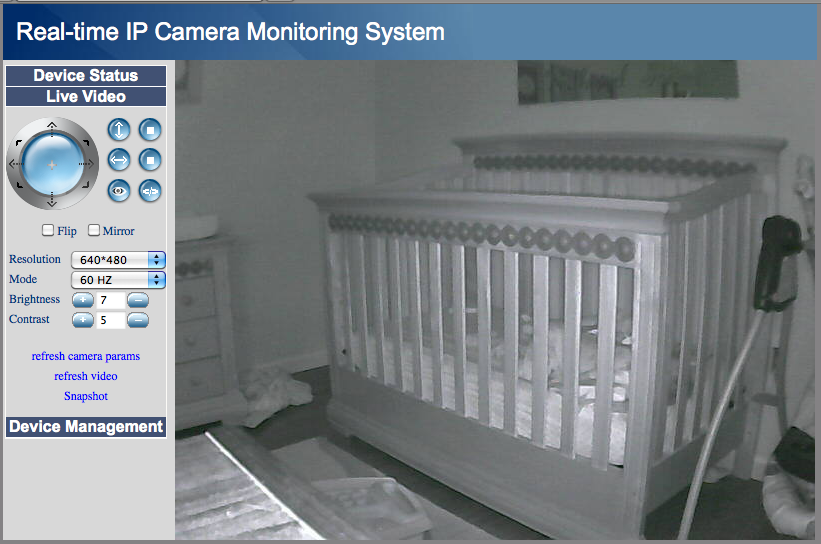 What I like best about the browser feed is it doesn't seem to require Java or Flash. I did a quick look at the source & it's calling some CGI script, & I'm not sure exactly what the CGI script is doing yet, but it works reliably so far.
The Foscam cameras are apparently easy to write apps for, because there are several apps for the iPhone/iPad available. A quick search on the Android Marketplace shows quite a few there too. My philosophy when looking for apps is if there's more than one, try the free one first until you want a feature only available in one for sale. So, I downloaded CamViewer for Foscam Webcams, which is free. It has both portrait & landscape modes to view the camera feed. It's a nice app for something that's free. It can control the direction the camera points & has basic controls for adjusting the picture. Nothing fancy, it just shows you the feed, controls the camera, & it works well.
The only downside about this camera is that I had to lower the complexity of my WPA2 AES wireless key in order for the camera to be able to join the network. A direct quote from the User Guide FAQ section:
Normally, camera can't connect wireless mainly because of wrong settings.

Make sure broadcast your SSID; use the same encryption for router and camera. Share key should not contain special characters, only word and number will be better. Don't enable MAC address filter.
Previously, my key contained plenty of special characters, as that's more secure. As to whether or not the security matched the application, I'll admit my previous key was overkill, but I'm sure most security professionals would say there's no such thing as overkill. That said, I'm sure I could have found a different camera that was more expensive, but I was willing to sacrifice a little security to save money. Plus, I couldn't really find any other camera that offered all the features as this one did, specifically iPhone/iPad support. I'm sure there are others, but they are most likely out of my price range. So, even though my key is a little less secure now, I doubt I'll have any intruders anytime soon. Since I run DD-WRT, I might look into seeing if I can get a notification when a "new" wireless device pops up on my network. Anyway, the key is the reason why it took me 2 hours. If it hadn't been for that, it would have taken ~30 mins I'm sure.
There are other features built into the camera I haven't explored yet, such as motion detection. I think if the motion detector is triggered, you can set it up to where it sends a series of screen captures to email or an FTP server if you have one set up. If you were setting one up to monitor the house, that'd be a nice feature to have. You also have the capability of setting up a dynamic DNS service, so if you open the necessary ports in your router's firewall, you could connect from anywhere. I probably won't do that because I don't want the possibility of some stranger looking in.
I wouldn't say this could be an all-in-one baby monitoring solution. For example, there's no notification or audio alert if something is happening. The iPhone app I'm using doesn't transmit audio. However, we already have an existing monitor in place that provides audio/vibration alerts so this is meant to compliment that. If we were starting from scratch, I'm not sure if we would have made different choices or not, as in whether or not we would have bought an all-in-one solution or something separate. Now that I think about it, I think it'd be more useful to have a separate smaller audio/vibration monitor for when you just need a notification rather than having to carry a video screen around with you all the time. So in a lot of ways, this setup is ideal for the flexibility it provides.
Overall, I'm happy with the purchase. For $100, I have an IP camera that I can access from any computer or iPhone/iPad in my house. That's a good deal if you ask me.